Vienna 3 Seater Sofa Bed Solid Oak - A perpetual Big Hitter, Vienna is one of our long standing best sellers. Over the years we've made it in rubber wood, sapgum and acacia.  Take a seat - our newest version combines the practical, easy care beauty of solid American oak construction with classic arm detailing, finished in satin-oiled oak. What's more, this classic sofa for 3 easily converts into a comfortable sleep space for two – in just three seconds. To care for your American oak frame, a dab of linseed oil will help to restore a marked or bumped frame to its original glory.

Upgrade to the Ultimate Bifold Futon: Rest easy whatever shape or size you are – the Ultimate is designed to withstand heavy everyday use. The combination of a generous layer of super-comfort sprung fibre, backed by a deep profile of foam and topped with soft poly denim, offers supreme comfort and support for both sleeping and sitting.
Upgrade to our new fluffy futon: If your sleep style is more Princess and the Pea than rough and ready, our Fluffy futon's the one for you. Designed with extreme comfort in mind, Fluffy offers supreme softness, brought to life by a softer-weave fabric top layer and an integrated design stuffed full of extra-soft components. Super-soft comes at a cost, though – its components are more expensive and this is reflected in the price tag. But what price do you put on comfort?
Dimensions:
W208 x D96 x H83cm (as sofa bed)
W208 x D140 x H30cm (as bed)
Sleeping area:
W136 x L190cm
Material:
Solid oak
Finish:
Satin oil and lacquer
Futon type:
Comfort futon
Ultimate futon (optional upgrade)
Fluffy futon (optional upgrade)
Removable cover (optional):
Handloom Fabric (100% Cotton)
Signature Fabric (80% Cotton, 20% Polyester)
Chequers Fabric (100% Cotton)
Aldeburgh Fabric (80% Cotton, 20% Polyester)
Package dimensions:
Package 1: L86 x W59 x D13.5cm (arms)
Package 2: L192 x W84 x D15.5cm (frame)
Package 3: L194 x W66 x D38cm (futon)
Package weight:
Package 1: 15kg (arms)
Package 2: 39.5kg (frame)
Package 3: 19.6kg (futon)
Assembly:
Self-assembly required
Assembly time:
Approx 30-45 minutes for 2 people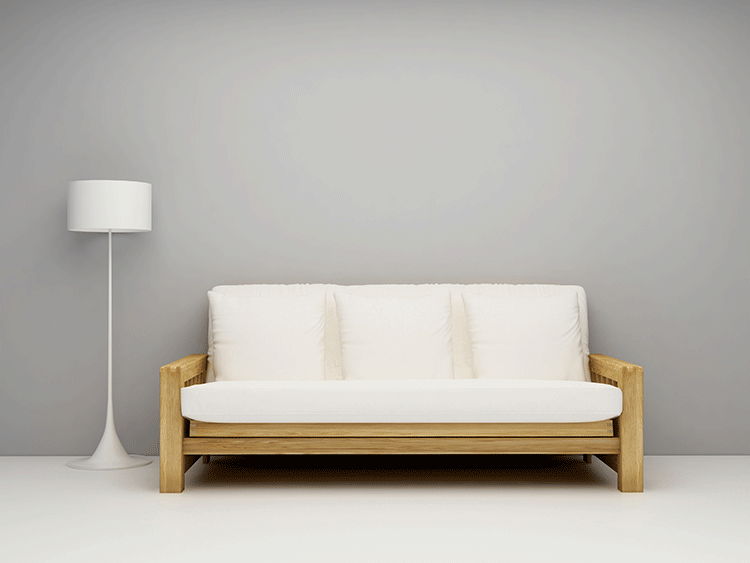 All of these fabrics are available as washable covers for our futons and sofa beds.
Handloom Fabric (100% Cotton)
Charcoal

Burgundy

Cloud Grey

Dark Grey

Fieldmouse

Forest Green

Natural Cotton

Navy Blue

Olive Green

Sauterne
Signature Fabric (80% Cotton, 20% Polyester)
Charcoal
Chequers Fabric (100% Cotton)
Fieldmouse

Salt & Pepper
Aldeburgh Fabric (80% Cotton, 20% Polyester)
Charcoal

Cocoa

Green

Natural
Cosy Weave (100% Cotton)
Graphite
All of our futon covers are only compatible with futon mattresses purchased from the Futon Company after January 1'st 2006.
CHRISTMAS DELIVERY & COLLECTION
Please see below for our order deadlines for guaranteed pre-Christmas delivery.
Please note that dates do not apply to items which are out of stock.
Click & Collect
- in time for Christmas
Order by Tuesday, 10th December for guaranteed pre-Christmas collection.
UK Home delivery
- in time for Christmas
| Order type | Order placing deadline, midnight |
| --- | --- |
| Small and medium deliveries (via Parcelforce) | Sunday, 15th December |
| Large deliveries (via London courier) | Sunday, 15th December* |
| Large deliveries (via 2 man and Pallet service) | Sunday, 8th December* |
* Postcode exclusions may apply.
---
The following delivery options are available for this product:
Click and Collect
You can choose a delivery to one of our stores and collect your order free of charge.
A member of the store team will contact you very soon to let you know when your order will be ready for collection.
Please bring the card you paid with and the printed invoice for collection of the item.
If the product you ordered is out of stock in the store where you wish to collect from, collection time may vary between 1-19 working days. The lead time on click and collect orders vary depending on stock availability and the delivery schedule of your selected store.
UK delivery
Please note: During Black Friday and Christmas busy periods delivery time may be extended.
There are various delivery options to choose from (depending on your postcode).
| Delivery type | Price | Delivery time, working days | Delivery days | Delivery point | Additional information |
| --- | --- | --- | --- | --- | --- |
| London courier | From £49 | 5-14 | Monday-Friday, Saturday | Hall of the property | Signature required |
| 2 man delivery | From £49 | 7-21 | Monday-Friday | Room of choice |   |
| Pallet delivery | From £49 | 7-14 | Monday-Friday, Weekends (+£50) | Kerbside | Pallet delivered to the front of your property. Large vehicle access required |
You will be contacted by the transport company by phone within 7 working days of placing your order to offer you a delivery date.
Please note: The total delivery charge for the order will be calculated at checkout and may vary depending on your total order weight and postcode area.
You are eligible for finance with this item. Available for all orders over £670. You will need to pay only 10% deposit.
Select your deposit amount:
Total Goods Price: £779.00
Deposit to pay today: £78.00
Loan amount: £701.00
6 monthly payments of: £116.83
APR: 0.00%
Cost of loan: £0.00
Total loan amount payable: £701.00
Total amount payable (with deposit): £778.98
The credit advertised is provided exclusively by Hitachi Capital Consumer Finance with whom we have a commercial relationship. Hitachi Capital (UK) PLC trading as Hitachi Capital Consumer Finance, 2 Apex View, Leeds, LS11 9BH.
* Please note: the above quotation is an indicative cost and actual monthly payments may vary by +/- 2p per month.
You will be able to choose PayByFinance option for eligible products/orders at checkout.